Post by Arie on Jun 9, 2021 19:26:26 GMT
The whole PC is hyped for the return of PUGS (hopefully soon!), which has a beloved dig site... and a dig site has bones... and Whiskerwick has bones and also Pug Week... Coherent introductions are overrated, so without further ado, here is a dig site inspired Pug!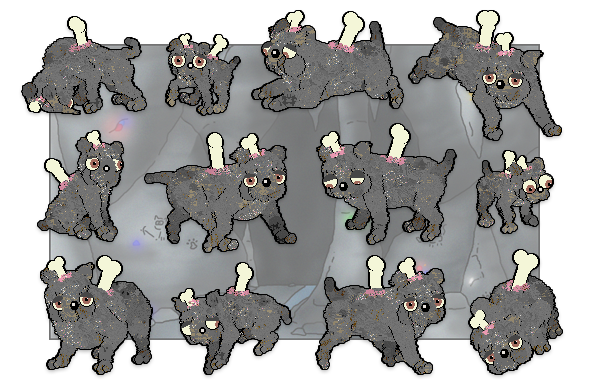 Yeah, he's got something there. Don't worry about it! It doesn't bother him at all. Just try not to look at it constantly please, he gets a little self-conscious.
Want to dig up one of your own? You can! Simply participate in or post a thread in the spirit of Pug Week. Enter or host a show or competition, show off your favorite sweet baby puggle, breed or hex a litter for everyone to enjoy, design a commemorative stamp, or even adopt your first-ever Pug and tell Fairpaw Park all about them.
Now, I realize that the Pug is not a very popular breed, and it would be a little sad to not get to give out a lot of these guys, so there is one other way to get one of your own, but it will be a little more of a long-term endeavor. You must pledge to donate at least 5 petz/items to the PUGS gem shop within 10 days of the site reopening (not going to be super strict - I just like having a closed-off timeframe). I will be checking with the site's official gem stockers to verify that you have completed this task, at which point your very own dig site Pug will be unearthed. Please post now (during Pug Week) to reserve a puppy!

If you find the bone a bit concerning, or are worried that it might keep getting caught on stuff or constantly knock over your prized porcelain collection, I can perform some expert and totally painless plastic surgery to remove the bone as well as the surrounding scar tissue, leaving you with nothing but 100% pure, uncut, rock solid puppy (puggy) dog. This additional service costs 25 bones, which will be taken from your account.
This file is on a Chihuahua base by default (I use P4 and don't like extra breedfiles), but I am more than happy to do your custom a more appropriate breed of your choosing - be it the P5 Pug, a unibreed, an overwrite, etc. - please just point me in the direction of the exact file you'd need!

Adoption rules
- One per person per acquisition method (so one for Pug Week participation, one for donating to PUGS).
- When showing, keep LF's in the prefix.
- Don't put up for download, auction, or sale.
- Return to me when no longer wanted.
- Do not hex/brex/edit in any way without my explicit permission.

Adoption form
- Your e-mail:
- Desired eye color(s):
- Bone removal surgery yes/no:
- Link to Pug Week participation OR legally binding pledge to donate to the PUGS gem shop:
Taken Dig Site Pugs




Bard

's Excavate
Eye color(s): 206/190
Bone removal: no
Base: Bulldog
Acquisition: Pug Week participation
Status: done & sent out ✔️




joni

's Fossil
Eye color(s): 181
Bone removal: yes
Base: Bulldog
Acquisition: PUGS gem shop donation
Status: done & sent out ✔️




commander

's Pebble
Eye color(s): 190
Bone removal: no
Base: default
Acquisition: PUGS gem shop donation
Status: done & sent out ✔️




sharon

's Neolithic
Eye color(s): 120
Bone removal: no
Base: default
Acquisition: Pug Week participation
Status: done & sent out ✔️




Laura

's Pleistocene
Eye color(s): 175
Bone removal: no
Base: Bulldog
Acquisition: Pug Week participation
Status: done & sent out ✔️




RebeccaMonkey

's Pickaxe
Eye color(s): 208
Bone removal: no
Base: Bulldog
Acquisition: Pug Week participation
Status: done & sent out ✔️




Jess ♫

's Hunebed
Eye color(s): 19/173 (irises 89)
Bone removal: no
Base: default
Acquisition: Pug Week participation
Status: done & sent out ✔️




lunarlex

's Mineral
Eye color(s): 19/28
Bone removal: no
Base: P5 Pug
Acquisition: PUGS gem shop donation
Status: done & sent out ✔️