Post by Apparition of Arie on Nov 12, 2020 14:06:58 GMT
Hello everyone! I'd like to tell you a little story about a puppy named Pawn. Pawn was bred back in September 2018, as part of a litter that went up on Litterz Factory.

Over the course of several months, all of Pawn's littermates got adopted. But not Pawn. Pawn watched them all go, but got zero applications. Apparently no one wanted to adopt this one last puppy from the bunch. How sad and lonely that must have felt!

Later rather than sooner, the time came for me to clean up the litters page, and Pawn, now a grown dog, moved in to the PUGS gem shops. Ready to charm a new audience and perhaps find a new home in exchange for just a handful of gems, Pawn stood tall and proud alongside all the other doggies, kitties, strange creatures and goodies up for sale!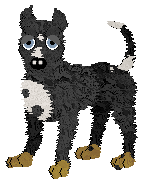 ...and did not get bought. To be fair, Pawn was not up for sale for all too long before the gem shops closed - but it was a fair while, and a good handful of the other petz that were put up around the same time did find new homes. But poor, unnoticed Pawn was not one of them.
After sitting idle for a little while in a dark, dusty folder, Pawn hopped on over to TFM with renewed courage. Alas! Do I need to tell you what happened? I do not, as a picture says more than a thousand words. And oh, is there ever a picture that says it all for Pawn!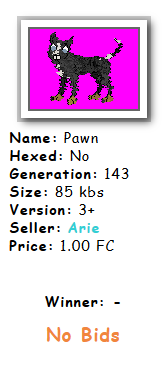 Pawn won't let it show, but is secretly starting to feel a little dejected. Why does no one want this dog? Is Pawn not a good dog? Not the most unique, mind-blowing beautiful mixie ever, but... are these not cute and quirky little dane ears? Does Pawn not have every mutt patch you could dream of? Are there not two perfectly adorable, immaculately placed dali spots on this broad, fierce chest? Please. Look into Pawn's big blue eyes, and do tell: why is this the world's least wanted dog?? ?

Whoever can give me the best explanation of why no one has wanted to adopt this dog in over two years by November 25th gets to take him home. Will Pawn have a turkey miracle to be thankful for this year...?

Rules

- When showing, keep LF or LF's in the prefix.
- Don't put up for download, auction, or sale. (Who would want to take Pawn off your hands anyway?!)
- When no longer wanted, MPA or return to me.
- Do not hex/brex/edit in any way without my explicit permission.
- Apply by November 25th.
Adoption form
- Your email:

- Your explanation for why no one wants Pawn: