Post by manda587 on Nov 15, 2015 19:34:38 GMT
Day One - Age 12
Day One
- Who are your new petz?
- What are their names and sexes (did you keep the original names)?
- What is your initial impression of your new petz?
- What do you expect will happen this week?
Anyways
Here's Cheesecake. He is totes cute. I love his eye color. I decided the first thing I had to do was see if he liked Cheese cause of his name.

No, he was not thrilled. So I put the cheese back, and tried a milk bottle instead, cause let's face it. Petz are so cute drinking from it.
And I also gave him some Meow Medley which he was very happy about eating, ate a pretty good portion of it


Got a good scrubbin' in

Oh boy someone's tired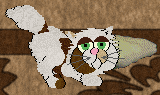 So I brought out a pillow I thought would match nicely with him, and he loved it right away. With a full belly, and clean fur, he fell quickly asleep
I click Pick a Pet to bring out:

Another male!!

Lol, but it works cause I decided to name him Pitch after the movie title. Let me say, I ALMOST mentioned that I absolutely hate oshies. But I really wanted to be open minded, and kinda believe in fate (a bit too much actually) and letting things work out the way it's supposed to. So I didn't say anything. And I'm SO glad I didn't, because I would have never received this little bug. He is a mini, amazing cute, pink eyes, slightly meezer looking and I am just so attached to him already.
I just wanted to see how he reacted to cheese since Cheesecake didn't like it so much. He wasn't thrilled either, but after a minute decided to pick it up and carry it along. Which surprised me cause this little bug should have been named Trainwreck since he is super scared of everything. I am trying to get him okay with his picture taken cause this is how he looks everytime after I snap a picture:

So the little trainwreck does surprise me with bursts of braveness like when he attached onto the milk bottle. But I waited til he fell off and he took it

I just wanted to see how cute it would look to play with a toy his own size. Yep, cute indeed

Yes Pitch, you need a bath too. I like a clean house
He wuvs his pillow. Nighty night
Overall, I am really happy with my boys, and very excited to see what the week brings. I will introduce them to eachother this week, just wanted to get a feel for them and see their personalities.